Need some ideas to design your Pop Up store?
If you're looking for inspiration related to designs of Pop Up shops, you're in the right place!
In this post we will explore the versatility of the perfect contemporary white box – 2 Rivington – and how it can be transformed into the exact place your brand needs.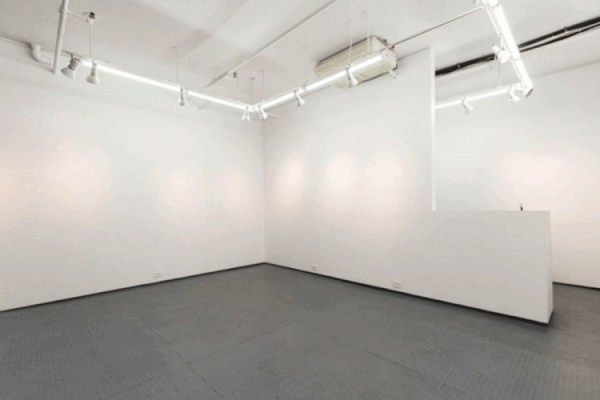 With a little imagination, some creativity and help from our production team you can elevate your brand spirit to the next level.
Keep on reading to discover 10 creative examples of Pop Up Shop Designs!
---
Stop and Smell the Flowers
When was the last time you stopped to smell flowers?
In this art Pop Up by Jordan Allen and designed by Underscore Laboratories, the white box turned green and was meant to be a "sanctuary for those who seek to be still" to stop and smell the flowers.
"Life's journey is like walking through a garden, but it's up to you to decide if you'll stop and smell the flowers. Through this exhibition we are given intimate access into the world of Mr. Lovejoy, the unyielding protagonist of NYC-based artist Jordan Allen."
---
din din
din din is "a supper club in NYC that offers course prix-fixe menus as well as à la carte dishes and a concise complimentary beverage menu."
After launching the project on Brooklyn for 2 months, din din decided to set up the restaurant at 2 Rivington in June 2022 and served Chilean sea bass and Beausoleil oyster ceviche among other delicious dishes.
Time Out mentioned, "Speaking of the space: unlike other at-first-glance-similar pop-ups that take place inside other eateries or in makeshift venues, Din Din built out an entire restaurant to be used for a couple of weeks only. The food must clearly be that good."
---
Flan
Flan is a clothing brand from Brooklyn, rooted in humor & good taste. Their Pop Up took place on May 2022 and besides clothing they also had food and homeware for sale.
---
The Found Object Show by Art Without Intent
"The Found Object Show" by Art Without Intent was an exhibition on March 2022, about found objects that transcend their forms through time and circumstance.
"Art without intent ennobles the random, celebrates the anonymous, and embraces the subjective, empowering individuals to see art where they may least expect to find it."
---
Human Inside
In January 2022, Brooklyn based artist Michael Conroy came up with the Human Inside art Pop Up, which included an exhibition of painting, sculpture and a performance.
"Behind all art is a human that is drawing from ones self and others around them. To look at art is to look at a human. Conroy wants not only to look at the human figure but also engage with habitat, physical space, location and occupation."
---
Giphy
 This special looping art installation was displayed 24/7 since December 2021 to January 2021 and featured new work from artist Sam Cannon.
"Part looping art installation, part window display, NEW WINDOW is the next chapter of GIPHY's ongoing "Be Animated" brand campaign; an ongoing mission to bring animation and self-expression to unexpected places."
---
Rowing Blazers
5 years ago, the made-in-NYC menswear brand "Rowing Blazers", designed by archaeologist and former US national team rower Jack Carlson, hosted their first Pop Up shop with Parasol Projects.
"A brand dedicated to authenticity, quality, and craftsmanship; and simultaneously to irreverence, inclusivity, sustainability, empowerment, and fun."
---
O.N.S. Clothing
O.N.S Clothing is a D2C brand that offers men's lifestyle products for easy modern living. Their fashion Pop Up took place between May and July, 2019.
"The brand's manufacturing facilities are located in Zhongshan, its premier concept flagship is in New York City, and global headquarters are located in Hong Kong. With these cornerstones as the brand's foundation, the company is growing rapidly and expanding its international reach."
---
Tombolo
Tombolo is a new unisex Hawaiian shirt company headquartered in Greenpoint.
"Their dying mission is to rescue the Hawaiian shirt from its kitschy niche. With such a rich history, they believe the Hawaiian shirt is meant for so much more than frat couture."
---
Labucq
Labucq had the pleasure to present their Fall 2019 collection in October. This e-commerce shop was founded by Lauren Bucquet and they offer boots, heels and sandals designed by Bucquet, which manufactured exclusively in Italy.
"The Fall 2019 collection included the wearable, block-heeled ankle boots in luxe novelty fabrications that the brand became known for in their debut season, as well as a new chunky soled loafer and a functional but chic rubber soled winter Chelsea boot."
---
Book your Pop Up with Parasol Projects
Check our previous, current, and upcoming Pop Ups in New York
Additional Resources – How To Have A Pop Up Shop
Additional Pop Up Resources